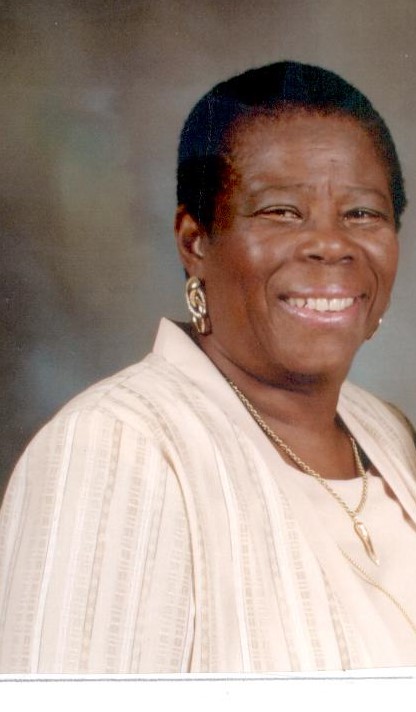 Mrs Dorothy Louise Goldsmith (Nee Capron) was born in Blue Hills, Turks and Caicos Islands and emigrated to The Bahamas with her family in the late 1940s.  She received her early education in Grand Bahama and won a scholarship to the Government High School in Nassau, where she decided after graduation in 1960 to become a teacher.
After graduating from the Bahamas Teachers' College in Nassau, she taught for one year and in 1964 was granted a Commonwealth Scholarship to attend London University's Chelsea College in England. Here she met her future husband Terence and after graduating in 1967, they returned to Nassau where they were married at Wesley Methodist Church.
In her 35 years as an educator Mrs. Goldsmith has served as Principal at 5 schools in Cat Island, Rum Cay, San Salvador and Grand Bahama and as District Education Officer in all except Grand Bahama.
A woman with absolute integrity, honesty and a determined, straight forward "no nonsense" personality, she was innovative, creative and responsible.  Her leadership and administrative skills are almost legendary and indeed could be deemed unprecedented in Grand Bahama.  She has attended numerous seminars and conference at the congregational, circuit, district, connexional, regional and world level.  She has travelled globally and has often represented not only her church but also the country through her various affiliations.
Dorothy was baptized in Wesleyan Methodist Church in Providenciales, Turks and Caicos Islands.  As a committed young Christian adult in Nassau, her continuing dedication to Christ caused her to support others less fortunate than herself, which led to the deepening of her spiritual life, becoming active in the Wesley Guild, Peer Mentoring, and the Drama Circle and subsequently to becoming a Sunday School Teacher.   Her faith grew and blossomed following her marriage and was further strengthened when, in 1984, her husband was diagnosed with cancer and was told that he had only six months to live. "Service Above Self" has always been their way of life, as they work to empower the less fortunate, the poor, the needy, the marginalized, the abused, especially children, some twenty, of whom they have fostered.
Dorothy has been an energetic, dedicated and innovative member of   St   Paul's Methodist Church in Freeport, Grand Bahama. She was the host and producer of the very popular weekly Radio Programme, "Great Hymns of Inspiration" a Music Ministry of the Grand Bahama Methodist Circuit from 1994 until her illness in 2012.  She has served as Class Leader and Congregational Steward for St. Paul's Methodist Church, President of St Paul's Methodist Church Women's Fellowship, President of the Grand Bahama Circuit Women, Women's Work Secretary for the Bahamas, Turks and Caicos Islands District Conference and Executive Women's President of the Methodist Church in the Caribbean and Americas
Following the successful hosting of MCCA Women 5th Quinquennial Assembly in Freeport, Grand Bahama in July 2010 Sis. Dorothy was elected to the position of MCCA Women Executive president.  She then began several initiatives to provide opportunities for persons to be taught practical skills to empower them to earn a living and to in turn, share their knowledge with others.  In 2011 she started a Sewing Project in which sewing machines and fabric were provided for the women's groups.   She travelled to Haiti in November 2011 to participate in their Women's Conference as part of her commitment to visit with each District in the connexion at least once during her tenure.  However, her plans to fulfill this commitment was curtailed when in January 2012 she became concerned about the headaches she was experiencing.  A MRI disclosed that she was having a brain aneurysm.  Following surgery and other treatment she was able to perform some of her previous tasks but never to her pre-surgery physical and intellectual state.
Sis. Dorothy was placed in a senior home care facility late last year while her husband received medical attention but returned home a couple weeks ago.  On Wednesday, 27th May, 2020 while holding her husband's hand, she quietly slipped from time into eternity.
Dorothy and Terence Goldsmith were happily married for 52 years and have parented two biological children, four adopted children, and numerous grand and great-grandchildren.
She will be missed but her impact will live forever.