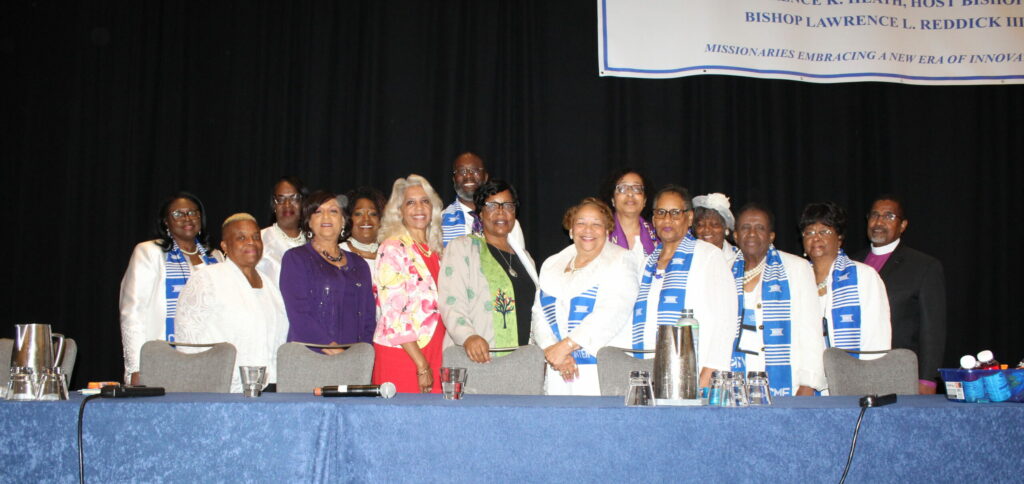 Background
The World President attended the Christian Methodist Episcopal Church Women's Missionary
Council 20th Quadrennial Assembly from the 24th to the 27th of June 2023 in Jacksonville Florida, at
the invitation of Dr Jacqueline I Scott the International President and her executive. The Assembly
theme was: Be Bold, Face Now, Embrace Next, and See New: While Soaring with The Missionaries.
Trip Objective
1. To give greetings on behalf of WFMUCW to the CMEC Women's Missionary Council 20th
Quadrennial Assembly.
2. To create awareness of the WFMUCW and its programs.
The Conference
The conference was well attended by women from all the states in the USA which they call Districts.
Day 1 (Saturday 24)
The first day was a day of administrative staff meetings, that's the day I arrived in the afternoon. I
was received at the airport by Dr Jeanette Bouknight North America Area Vice President
accompanied by two women from the CMEC executive.
Day 2 (Sunday 25)
We attended church at the Central Metropolitan CME Church in the city of Jacksonville. I was
introduced to the congregation, welcomed and I responded and gave my greetings. In the afternoon
there were Assembly Committee Meetings in different rooms within the hotel. From 7:00pm to
10:00pm it was time of prayer and praise service from Episcopal Districts, this was a time of
powerful worship and praise session. All Districts presented their music pieces, some as praise teams
and some as choral choirs. There was non-stop praise music for 3 hours and ended with a prayer
from the bishop.
Day 3 (Monday 26)
The day was opened by a banner procession from all districts followed by council officers and the
College of Bishops and Regional President. After the Bishops was the Ecumenical Guests where l was among the other 6 women representing their organisations:
• World Federation of Methodist and Uniting Church Women
• Bread of the World
• Church Women United
• One Church One School
• Black Women's Agenda
• Balm In Gilead
• The American Bible Story
Ecumenical guests gave their greetings, as World President of WFMUCW l gave my greetings and
talked briefly about my organisation.
Devotion was led by Bishop Charley Hames Jr reading from Isaiah 9:6, Psalms 23:4
Isaiah – His message was, we don't have to fear anything if we know who we are. Isaiah was
referring to Jesus the son of God that was to come.
We were made just by God through His Son who spilled His blood for us to be called His children.
Him being our father, died for us – buried and rose again, He is interceding for us. Have no fear the
father is with you, don't fear going out, do not fear growing old, you are the father's daughter, that
is who you are.
Psalms – The power of God will overshadow us as we walk this journey of life. Peace be still meaning the shadow will cover us; we have been shadowed beneath God's hands. David talks about the shadow of dearth, and we talk of valleys of depression, of sickness, despair and challenges with
children. But though I walk through the valley – I am not staying there; I am passing through this
valley. The prince of peace is here with us. We need to listen to God, just being still knowing He is
God. In all our fears our father is with us all the way. Let's act on a conviction led by the power of the
Holy Spirit.
Bible Study
The bible study was done in 4 parts in the four days of the conference, I managed to attend part 1
and part 2 on the 26th and the 27th of June for an hour each day led by Rev. Lavisha Williams.
Theme: Be Bold Enough to Face Victory
I noted few points from the bible study:
• Boldness is acting by the power of the holy spirit through your conviction.
• With our conviction we can stand against any challenge
• Boldness is a gift from God, to speak the truth in confidence. Eph 7:3
• The invitation is to come in boldness knowing who God is to you, for He came that we may
have life and have it in abundancy.
• Conviction inspires courage.
• Being bold is doing God's will and giving testimonies of how He walked with you.
• Be bold enough to embrace your victory.
• Be convicted by who you are, you are a child of God. Situations come and fight our identity,
but the battle was won by Christ on the cross and things became new.
• Pursue Boldness in the power of the Holy Spirit and die to your flesh.
Christian Methodist Episcopal Church Missionary Council President's Report
In her report the President advised that the Women's Missionary Council turn 105 years old in
September 2023. She saluted the women who serve at local level – the grassroots for their
dedication, answering Jesus's call as Isaiah did "Here l am send me".
She acknowledged that all Districts were represented at the conference and thanked the hosting
District.
Thanked God for being able to travel in the past four years throughout the connection and attending
conferences and meetings she was supposed to attend. She highlighted some of the conferences
and Ecumenical events attended.
She also reported that in the past four years Women's Missionary Council supported and gave 638
students higher colleges and universities scholarships totalling USD 129,163.00 the President was
grateful to the wonderful support from Reginal Presidents who turned in money for the scholarships.
The day ended with Holy Communion; the preacher was the host Bishop Clarence Kelby Heath.
Bishop read from Numbers 21:1-9
In his message he emphasized that we must confess our sins and believe in Jesus. Salvation is on the
brazen snake lifted higher that whoever looked at it was saved. Salvation is on the cross which brings
redemption to humankind and triumphs over mortal snake of original sin. Look up to Jesus and learn
to trust God as we journey in this world because God's covenant plan stays on track even when we
as people do not. The way to be saved is by looking up to Jesus on the cross.
Conclusion
I thank God for granting me this wonderful privilege to serve and be invited to be at the CMEC
Women's Missionary Council 2023 Quadrennial Assembly. The hospitality was great and humbling. I thank God for his mercy and faithfulness.
To God be the Glory.
Sipiwe Chisvo
World President 2022- 2026