Memorial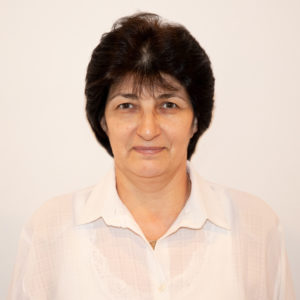 We remember our loving sister Liljana Sjanta (1960-2020)
I am very sorry to write about Liljana Sjanta in the past tense. It shouldn't be like this. But the Master of life and death decided to finish her earthly journey and crown her life and faithfulness.
Liljana was a diligent and modest woman with a wide vision, a strong character deeply rooted in God´s promises.  She was born on August 1st 1960 as the first daughter in the Palankov family in Murtino (R. North Macedonia). Later she got a sister and a brother. Very soon she became a member of spiritual family too. She was raised in the Christian Methodist spirit. She played a very active role in her congregation. After she graduated high school and asked God for the future plans, God gave her the answer by meeting her future husband at youth meeting. It was a young pastor Jano Sjanta from Serbia.
They got married in November 1980 and moved to Šid (Serbia), which was her husband's second appointment (the church where they served). Very soon she realized what it means to be a pastor´s wife. Liljana served with her talents and was working hard wherever there was a need in the church. Above all, she was supporting her husband in his ministry. Year 1984 was very significant for her – she became a mother, and her son Daniel was born. This was her big joy and deep experience. Then time came to move to a new appointment. It was just for a short period back to Macedonia (Radoviš-Rakliš). Here, she became a mother for the second time and in 1987, her daughter Ana was born. A loving and precious daughter. Very soon the 4 member family moved again. This time to Vršac (Serbia), where they stayed for 16 years. In this city she raised her children with rich spiritual foundation and she went through their childhood, schooling and later preparation for life.
Motherhood, learning new languages (Slovak, English), new culture and mentality, changes and hardship in country… all these factors shaped her hard for new challenges and new tasks. Beyond she was a faithful and supportive partner of her husband, she worked with love in Sunday school too and, later became a member of the Church Council and delegate to the General and Central conference. She was initiating of partnership with USA where she was representing our Country and building bridges between two continents. She opened door for new cooperation and possibilities. At the end, as women, we will remember her as the leader of the women´s work. With full heart and soul, she worked with and for women. Locally and wider she organized seminars, encouraging sisters and bringing out spiritual moving and growing. God was blessing her effort. Yes, she was the District Women's work president for 20 years, from 1999 to 2019. These years she mobilized sisters, refreshed women´s retreats meetings, brought new ideas and experiences and she connected Serbian sisters with European and American.
Her last destination was Padina. It was her husband's birthplace where they lived and served from 2006 until now. A woman active and strong suddenly became weaker and weaker. A very rare and disease started to dominate and slowly stopped all routine life activities. No one could believe how a disease could paralyze her and after 2 years of inhumane battle, she finally found rest in the Lord. It happened on 29th June 2020.
As I wrote before: from our human position It shouldn´t be like this! She should have lived and celebrated her 60th birthday, she should have celebrated her 40th wedding anniversary with her loving husband, she should have been able to see her grandchildren grow up… But with great pain and sadness, we have to admit that Almighty God´s will is the best for us and for her, too. At the end she won the most important battle. She received a reward: the crown of life from her Savior and Lord. We will remember Liljana's fadeless life and work with joy and love.
Maria Ďurovka Petraš
Pastor and coworker of Liljana