Dear Sisters in Christ,
I greet you and happily invite you to the 11 th Joint European Area Seminar with the words of
apostle Paul:
"…that Christ may dwell in your hearts through faith; that you, being rooted and grounded in
love, may have power to comprehend with all the saints what is the breadth and length and height
and depth,   and to know the love of Christ which surpasses knowledge, that you may be filled with all
the fulness of God." (Ephesians 3, 17-19)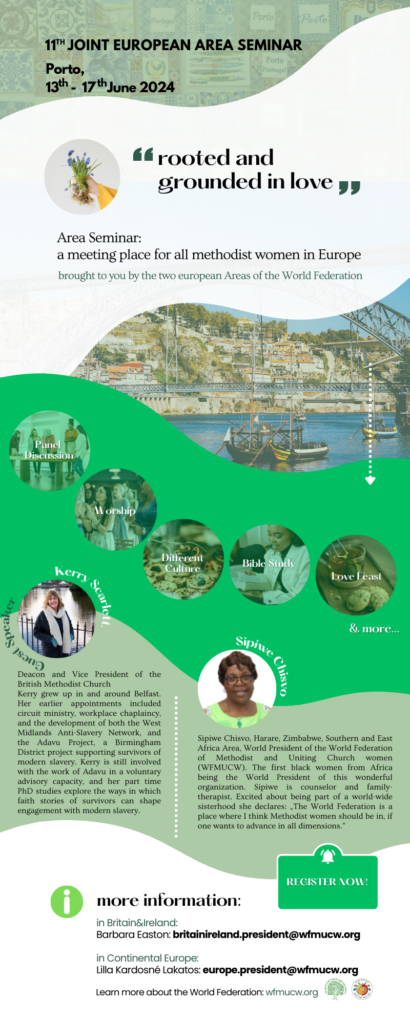 What should you know about this Seminar?
What is the "Joint Area Seminar"?
It is a conference of all Methodist women in Europe. The Area Seminar is colourful, joyful
and meaningful! It takes place every 4 or 5 years. The Seminar is organized by the Area
Presidents and Vice Presidents of the two European areas in the World Federation of
Methodist and Uniting Church Women (WFMUCW). This time it is the turn of Europe
(Continental) to take the lead so the Seminar is hosted in continental Europe.
When does the program start?
The program starts on Thursday evening, and it will end on Sunday evening. Arrivals
preferably should be in between 2 pm and 6 pm on Thursday, the 13 th , and departures on
Monday morning, the 17 th of June, after breakfast.
What is on the program?
This is a place to meet and grow with other Methodist women from across Europe! There
will be Bible studies, keynotes and workshops, panel discussions and a special speaker. In
addition, we will come together in prayer and worship, and bring everything together with a
traditional Methodist Love Feast. In between there will be opportunities for craft and activity
and visits in the lovely city of Porto. You might like to visit the nearby Lello Library that
inspired JK Rowling in writing Harry Potter. More information about the speakers, guests
can be found on the flyer. Detailed program with workshop offers will be uploaded later.
What will the language of the Seminar be?
The main language of communication will be English, but we will also have songs and
prayers in languages other than English. No translation will be arranged by the planning
team.
Where will this Seminar take place?
In the wonderful city of Porto, Portugal. All events of the Seminar will be held in the
conference rooms of the Hotel Ipanema, Porto. We refer to it as the "seminar hotel"
(address: Rua Do Campo Alegre, 156/172, Porto, 4150-169, Portugal)
Where can I stay?
There are 3 options, you can choose:
1. Hotel Ipanema, (the Seminar hotel) Rua Do Campo Alegre, 156/172, Porto, 4150-
169, Portugal
2. Hotel Tuela (another hotel nearby) Rua Arquitecto Marques Da Silva, 200, Lordelo
do Ouro e Massarelos, 4150-483 Porto
3. accommodation you organize independently
We, as the planning team, offer our assistance with the bookings in the above two Hotels,
which are a 5-minute walk from each other. If you prefer to be where the Seminar events
take place, then choose Hotel Ipanema. If you don't mind walking a bit every day, and a
lower priced hotel is also good for you, choose Hotel Tuela. If you want to search for
another place for yourself (another hotel, Airbnb, apartment, or hostel etc), then choose the
option: 'no accommodation' in the registration form. It means that you will have to organize
it for yourself, and you will be asked to pay the registration fee only. If you choose any of
these two Hotels mentioned above, the Seminar organizers will arrange your room booking.
If you choose "no accommodation" you will have to take care of your own accommodation.
Accommodation costs will depend on your choice of hotel and room. All hotel prices quoted
are for bed & breakfast accommodation for 4 nights from Thursday 13 th to Monday 17 th
June 2024. (Breakfast on Monday is also included.)
All costs are in EURO (€), the official currency of the host country, Portugal.
The early bird offer is over, and prices may be higher and higher as we get nearer to
the event. Porto is a famous tourist destination, do not hesitate, register now!
Accommodation is available at these prices:
o Ipanema Porto Hotel (Seminar Hotel) Twin Room | 341 € per person
o Ipanema Porto Hotel (Seminar Hotel) Single Room | 662 €
o Tuela Hotel (5-minute walk from the Seminar Hotel) Twin Room | 312 € per person
o Tuela Hotel (5-minute walk from the Seminar Hotel) Single Room | 604 €
Note: If you wish to extend your stay by additional nights, before or after the Seminar,
please contact the hotel directly or a booking website such as Booking.com etc.
For all attendees, the Seminar registration fee of 250 € is non-refundable.
Your registration will be confirmed upon receipt of the registration fee payment.
Meals
You have the choice to include meals (lunches and dinners), which will be served in the
Seminar Hotel (Hotel Ipanema). This means all together 7 meals during the Seminar. Buffet
lunch and dinner are both 27 Euros per person. If you wish to include meals, you need to
add 189 € (7 x 27 €) to your payments.
This is optional. If you think that you can manage to buy food for yourself somewhere else
to reduce your costs, you are free to do so. There is a great food court 5 minutes away from
the Seminar Hotel with a vast variety of good and cheaper food options.
How much do I pay?
The total cost of the Seminar is calculated as the sum of the
– registration fee
– the price of the hotel accommodation
– meals (lunch, dinner)
The registration fee is 250 €, which covers all coffee breaks, and Seminar organizing
expenses. (Lunches and dinners are NOT included in the registration fee!!) The registration
fee is due after you have filled in the registration form, and it is non-refundable.
Examples:
– If you choose to stay at Hotel Ipanema (Seminar Hotel), and you are comfortable with
sharing your room with another participant (Twin Room), and you choose to have the
meals included, your total cost will be 780 €. You will need to pay the registration fee of
250 € after you fill in the form, and pay 341+189 € for the Hotel stay and for your meals
before the end of February, 2024.
– If you choose no accommodation, and no meals, you only have to pay the registration
fee: 250 €.
How can I pay?
Two options:
1. PayPal:
click here:
https://www.paypal.com/donate/?hosted_button_id=99SBGMPUC28U6
2. Bank transfer. Please make all bank transfers to this account:
Please indicate in subject or title: Area Seminar Porto + your full name
Beneficiary's name: IGREJA EVANGELICA METODISTA PORTUGUESA
Beneficiary's address: Praça Coronel Pacheco, 23, Porto, Portugal
IBAN: PT50.0033.0000.01091751875.17
SWIFT: BCOMPTPL
Bank's name: Millennium bcp
Bank's address: PRAÇA D. JOÃO I, nº28
4000-295 PORTO, PORTUGAL
While making your transfer, please choose the option that you cover the costs of the
transfer itself to reduce Seminar expenses, thank you!
Payment deadlines:
Registration fee (250 Euros) is due after registration.
The full payment (chosen accommodation costs, plus optional meals) has to be made by 29th February 2024
Please be aware that full reimbursement may not be guaranteed if you cancel your registration within 30 days prior to the Seminar.
City tax
Be prepared, that you will have to pay a city tax upon the arrival to your hotel, which is 2
Euros/day/person.
Day visitors:
We welcome day visitors too, please contact Filipa Teixeira, if you would like to visit the
Seminar in Porto. Her email is below.
Travel
You are responsible for your own transport to Porto. Volunteers will be waiting for you at the
airport to assist you in selecting transportation of your choice to the hotel. We encourage
you to install the BOLT app on your phone, because you can call taxis at a much lower rate
via BOLT app.
VISA
The visa application must be submitted in person by the applicant at the Consular Office in
their area of residence, the cost of it is the applicant's responsibility. The visa application
must provide justification for the purpose and conditions of the intended stay. If you need an
invitation letter from Portugal please contact by email: secretaria@igrejametodista.pt
(Portuguese Methodist Church)
Insurance:
IT IS YOUR OWN RESPONSIBILITY TO PROVIDE TRAVEL AND HEALTH INSURANCE
AND ANY OTHER INSURANCE YOU FEEL APPROPRIATE (as well as any medication
you will need). The WFM&UCW cannot be held responsible for any damage to or loss of
luggage in connection with travel to or from the seminar, nor on the optional excursions.
NB. All members of EEC countries should bring their European Health Insurance Card.
Register now…
…and start to plan your journey!
The process of registration:
1. Read all information carefully.
2. Click on the registration link. It will take you to a Google form. Fill it in, and submit. It
will automatically be sent to us!
3. Pay your registration fee for reservation (250 €)
4. Pay for your accommodation and meals.
Registration link is here:
https://docs.google.com/forms/d/1nPisiJlz63ChIy8IHsusBMeQD3uk0SdRzwQkH2wQYQg/edit?ts=64fb200f
Contact
in Continental Europe:
Lilla Kardosné Lakatos, Area President: europe.president@wfmucw.org
Filipa Teixeira, Area Vice President: europe.vice-president@wfmucw.org
in Britain & Ireland
Barbara Easton, Area President: britainireland.president@wfmucw.org
Wanda Hogan, Area Vice President: britainireland.vice-president@wfmucw.org