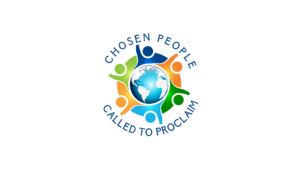 Recently, I wrote about two women whose story is told in Acts 16 (Lydia and the slave girl). Today I want to introduce you to three women who have been on my mind and in my heart and prayers for some time. They all live in Zimbabwe, each one from a very different background. Each one has had a profound effect on me. I have no idea whether they are in contact with each other, but I bless them for being in contact with me.
From them (and others) I hear news of what is happening in their country right now. Some of this news is distressing and I cry out to God on behalf of their nation. Some of the news is inspiring, and I thank God for the amazing work that is going on to support people in need. Some of the news is humbling, and I confess to God that my faith is so weak in comparison to the faith I see in them. I first saw the faith of the Methodist people in Zimbabwe when I had the privilege of being with them at their 75th Anniversary of Autonomy celebrations in 2017 and was given such generous hospitality in their homes. Yes, I stayed with each one of these three women during that visit and Les and I still cherish the memories we have.
Julie is supporting and encouraging the women through the Women's Ministry Program based at the Methodist Theological Centre in Bulawayo. This two- year course, supported by local fund-raising and distant donors, includes bible study, leadership, health and healthy eating, computing, English language and theology in a wide-ranging curriculum that changes the lives and boosts the confidence of the students. Staff and students have had to be patient during the lockdown period but are now grateful for laptop computers that will enable to women to continue their studies remotely. Meanwhile, they are supporting one another and reaching out to individuals in their communities where there is need.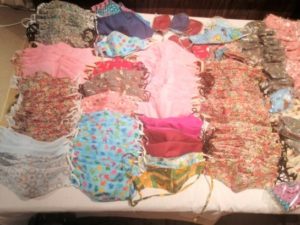 Jane is making face masks for people who cannot afford to buy them and for ministers who are conducting funerals. Jane works with the Angel of Hope Foundation to distribute these items with bars of soap as gifts. Following the devastating events of Cyclone Ida in Chimanimani, she accompanied her daughter, who is the Ambassador for food security in Africa, to provide relief through the distribution of mealie meal, dried vegetables and clothing items.
Sipiwe is providing cooked meals for over 300 hundred people five days a week with support from members of her local church women's fellowship. A friend in the UK runs a charity that helped Sipiwe start this 'program of mercy'. Sipiwe told me ' I'm seeing children, men and women, old and young with sad stories I tell you, I have seen children from child-headed homes without food coming to have just that one meal per day. I'm seeing this with tears, Alison. I have learned a lot these past 13 days I have been feeding these needy people and will never take for granted the little that I have.'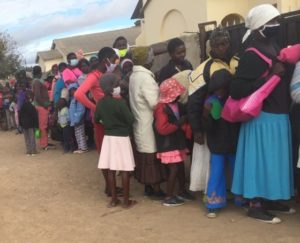 I know that the situation in Zimbabwe is producing fear, distress and extreme hardship for many people. Each of these women is working for the good of others in the place that God has appointed them. Each of them asks for prayer support for their amazing work and I am glad to do so.
I also know that there are women like Julie, Jane and Sipiwe in many other countries, each serving God and their communities by using their time, talents and effort to bring hope into a troubled world. I thank God for inspiring such women and I pray their stories will inspire each one of us to do what we can in the place we have been planted.