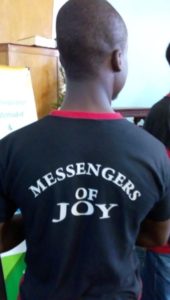 As we entered Trinity Methodist Church in Harare back in August this year, with around 500 women who were congregating from all over Zimbabwe, we were greeted by a group of young men singing and dancing in welcome. On their t-shirts the words 'MESSENGERS OF JOY' caught my attention.
In contrast, as I watched the BBC news last night, I wept as I saw the plight of women, men and children in the Democratic Republic of Congo, a country ravaged by internal conflicts and where people are suffering from appalling poverty and malnutrition.
The whole creation groans as fires burn out of control in California, volcanic eruptions threaten the island of Bali, the oceans become clogged with plastic waste, refugees huddle against cold and rain in Bangladesh, powerful national leaders raise aggressive hands towards each other and even against their own citizens. The list of horrors grows daily.
How greatly we need to hear 'MESSENGERS OF JOY'! But what message can they bring to offer consolation to our battered world? Surely any message of joy would seem insensitive and misplaced in such horrendous circumstances.
The angel who appeared to the humble shepherds on the hillside outside Bethlehem, as recorded in Luke 2: 10, said 'Do not be afraid; for see – I am bringing you good news of great joy for all the people; to you is born this day in the city of David, a Saviour, who is the Messiah, the Lord. This will be a sign for you; you will find a child, wrapped in bands of cloth and lying in a manger.'
The holy one, sent by God and being God in human form, came into the world to bring us hope in the midst of despair, joy in the midst of sorrow, love in the face of hatred and forgiveness for our sins. This message is available to all who are humble enough to receive it into their hearts.
We thank God for all those who work to bring relief and love into lives that are hurting. We thank God for those who make sacrifices in order to support others who are in pain. We thank God for those who speak out on behalf of our natural world, and for those who cannot speak for themselves. We thank God for teaching us treasured kingdom values through those who remain faithful disciples in the midst of troubles. We thank God for each little act of kindness that has been inspired by the Holy Spirit and warms the hearts of those who receive.
That single angel messenger outside Bethlehem was joined by a host of angelic beings who chorused their own message of praise: 'Glory to God in the highest heaven; and on earth peace among those he favours!'
As women of the Federation, we are called to proclaim a message of joy, and glory to God for the wonderful acts of love we are witnessing in the world around us.
Blessings and joys be yours to share this Christmas!
Alison